Board Certified in Criminal Law & Criminal Trial Advocacy
Exceptional Legal Representation
Get the fighting chance you deserve with an experienced attorney who will work hard to protect you rights.

Fort Worth Criminal Defense Attorney
Our Fort Worth Criminal Lawyers Have Tried More Than 250 Cases in Tarrant County
The team of Fort Worth criminal lawyers at Alband, Lane & Balderrama is ready to help you by providing experienced, insightful legal counsel. Our firm believes you are not just another number, but a person who needs assistance and deserves justice. Being arrested for a crime is a life changing, frightening event. What you need at such a time is someone who cares about what happens to you and who will work hard to protect your rights.
Understanding the Individuality of Each Case
Our firm focuses on criminal and DWI cases in the Dallas-Fort Worth area, and our track record speaks for itself. We have a passion to help those in their time of need and are driven to produce results. A good Fort Worth criminal defense lawyer knows those faced with criminal charges need more than hard-hitting strategy; real value comes from a smart defense.
No two situations are the same, so we evaluate each case to determine the type of defense that will best suit it—regardless of whether you are facing a misdemeanor, felony, or even appealing a case. The only way to develop a smart strategy is to be prepared. We believe it is important to know the client, not just the case. That is why we treat our clients as valued individuals and not as just another case number. Our Fort Worth criminal lawyers become personally invested in every case and the success of every client, as it if were their own criminal case. We will work tirelessly to have your charges reduced or dismissed!
---
Don't wait, contact our Fort Worth criminal lawyers at (817) 997-4366 to get started on your free case evaluation!
---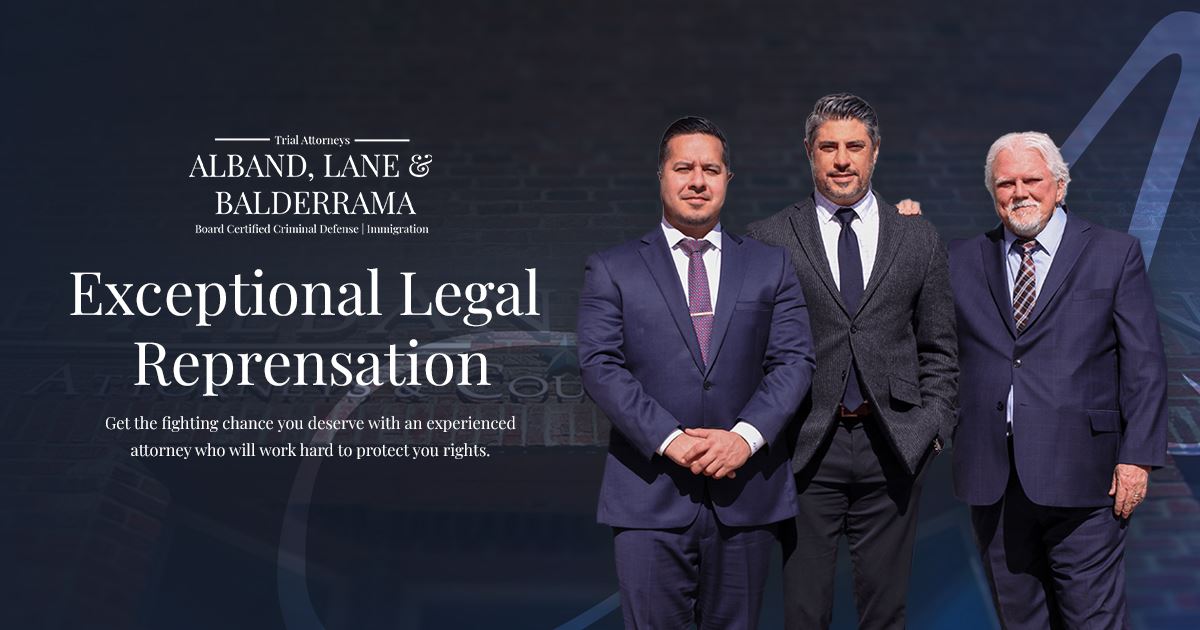 Attorney Navid Alband
Attorney Alband served as a Tarrant County prosecutor for 5 years before starting his current criminal defense practice. Now, backed by 18 years of legal experience, Alband is best known for the strategic skill and unwavering commitment he brings to every case he represents. To date, he has brought over 100 cases before a jury, fiercely fighting to protect the rights of his clients. He is a respected member of the legal community who is routinely recognized on The National Trial Lawyers Top 100 Trial Lawyers list, as well as the organization's Top 40 Under 40 list. His work has earned him the respect and appreciation of peers and clients alike, as evidenced by his Perfect 10.0 Rating on Avvo, where he has no less than 20 five-star reviews.
Criminal Defense

Immigration
Our Fort Worth Criminal Lawyers Offer Aggressive Legal Representation for Your Charges
As an aggressive Fort Worth criminal defense firm, we have built our reputation on our ability to successfully litigate in and out of a court room on behalf of our clients. Whether you are facing DWI charges or narcotics / drug crimes, our Fort Worth criminal defense attorney will fight for your freedom!
Our Fort Worth criminal lawyers handle the following types of criminal cases:
Bench Warrants – A bench warrant is issued by a judge—rather than a standard arrest warrant issued by the police—generally for conduct that occurs in a courtroom or civil matters, including failure to appear. Failure to address a bench warrant can lead to arrest and harsh criminal penalties.
Domestic Violence – Domestic violence occurs when a person commits a violent or sex crime against someone who shares an intimate relationship with him/her (e.g., current or former spouse, current or former dating partner, individuals who share children together, family members, etc.).
Drug Crimes – Texas takes drug crimes very seriously since a conviction can result in a lengthy prison sentence and fines worth thousands of dollars. Common types of drug crimes our firm handles include drug possession, drug trafficking, drug sale and distribution, drug manufacturing, and prescription drug fraud.
DWI – You can get arrested for a DWI in Texas with a blood alcohol content (BAC) of at least .08 percent, or .04 percent for commercial drivers or any amount of alcohol for underage drivers. A conviction can result in jail time, fines, and driver's license suspension.
Expunctions – If you have been arrested and your case eventually gets dismissed or received deferred adjudication, unfortunately, you still have a criminal record that can impact your personal life and professional reputation. However, you may be eligible to have your criminal record expunged.
Federal Crimes – These types of offenses are a violation of federal law or occur on federal property. A federal conviction is much harsher than getting convicted of a local or state criminal offense.
Felonies – Felony offenses are more serious than misdemeanors. A felony conviction carries state prison or state jail sentence. Common examples of felonies include murder, sexual assault, kidnapping, and deadly conduct.
Fraud – Fraud is one of the most common white collar crimes in Texas. Common types of fraud include healthcare fraud, mail fraud, wire fraud, tax fraud, insurance fraud, internet fraud, credit card fraud, and identity theft.
Juvenile Crimes – We also handle juvenile criminal representation so that you can rest more easily knowing that your minor children's charges are in trustworthy hands.
Misdemeanors – Although misdemeanors are less serious compared to felony offenses, a conviction can still result in a jail sentence and costly fines.
Nondisclosures – If you are not eligible for expunction, you may still be able to get your criminal conviction sealed through the nondisclosure process, so long as you obtain deferred adjudication.
Probation violations – If you violate the terms of your probation, either your probation period will be extended, or you will be forced to spend the remainder of your sentence behind bars.
Theft – Theft involves intentionally stealing property from someone else without permission. Common examples of theft include shoplifting, vehicle theft, and burglary.
Warrants – An arrest warrant allows police officers to immediately arrest an individual. If you have an outstanding arrest warrant, let our legal team help you take the best course of action.
We can investigate your arrest, collect and assess evidence, negotiate with the prosecution, and help you either get your entire case dismissed or your charges/penalties reduced. When your rights and freedom are on the line, look no further than Alband, Lane & Balderrama defend you from start to finish!
---
Your future freedom and reputation are on the line and in the hands of your legal representation. Even if you are innocent, obtaining an exceptional legal counsel with intimate experiences with the law will be crucial. Contact our Fort Worth criminal defense attorneys at (817) 997-4366 today!
---
Arrested? Let a Former Prosecutor Defend Your Rights
Our firm has all the resources you need to present a strong criminal defense on your behalf. We are committed to an aggressive and effective representation for anyone charged federal crimes such as white collar crimes especially in the form of fraud. Various charges regarding theft can result in minor fines for actions such as shoplifting or extensive prison time for robbery with violent intent. We can provide a strong defense for virtually all criminal offense charges, including violent crimes such as assault, murder, sexual assault and other forms of domestic violence. It is critical to speak with an experienced Fort Worth criminal defense attorney.
As a former prosecutor, Attorney Alband has over 100 jury trials under his belt and is well-versed in all manner of litigation. In fact, he has even been accepted into The National Trial Lawyers: Top 40 Under 40 (2014-2017) and The National Trial Lawyers: Top 100 Trial Lawyers (2014 to present). These are invitation-only, elite groups that recognize only the most skilled trial attorneys in the U.S.
Continue Reading
Read Less
What Our Clients are saying
Testimonials
"So good to have an honest and knowledgeable team behind us."

Angel

"They have provided a sense of ease to my thoughts and heart. I can not imagine using a different group of people to help me in this situation."

John

"Thanks to Mr. Alband, a two-count indicted felony case was dismissed completely."

Ann

"Mr. Alband, I just wanted to say thank you and good luck with your future career."

C.F.

Genuine kindness is no ordinary act, but a gift of rare beauty. For all that you are and all that you give, I thank you.

V.B.
Contact Alband, Lane & Balderama
Fort Worth Criminal Defense Attorney We know that this is a scary and unexpected situation, and we are here to help. With the experience of our lead attorney as a prosecutor and the professional relations we have developed of the court of our career, we will make every effort legally possible to get you and get you through this. Use the form you see here and we will contact you immediately.

Contact Us Today
Free Initial Case Review